2016   0n the Edge  
Christina Parker Gallery, St John's, Newfoundland
The paintings in this collection are about the strategic skills used by plants that are growing in challenging environments. The results of this interaction are often unexpected and fascinating to me. Many times I wonder if my progress in life would have been entirely different if Science had been taught at the girl's school I attended in Zimbabwe. The excitement generated in observing and becoming educated about the plant kingdom has almost become an obsession. Through this challenge of self education, and the Newfoundland environment around me, I have been exploring the geological effects that change and enhance the accompanying verdure.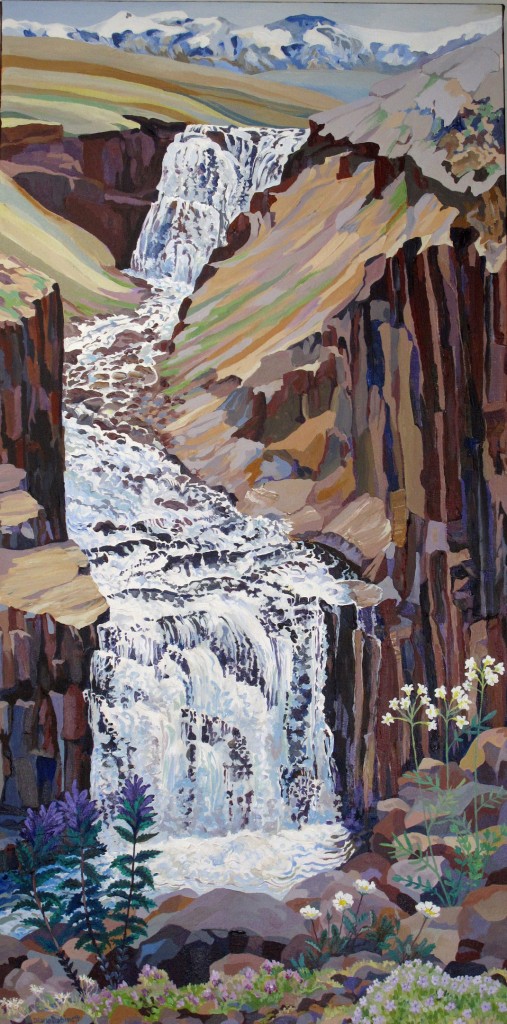 Arctic Waterfall, Iceland 2015  acrylic

Death Valley View, California   2015   acrylic

Lion's Den, Fogo Island, Newfoundland  2016 acrylic
2015    online   My Appendix!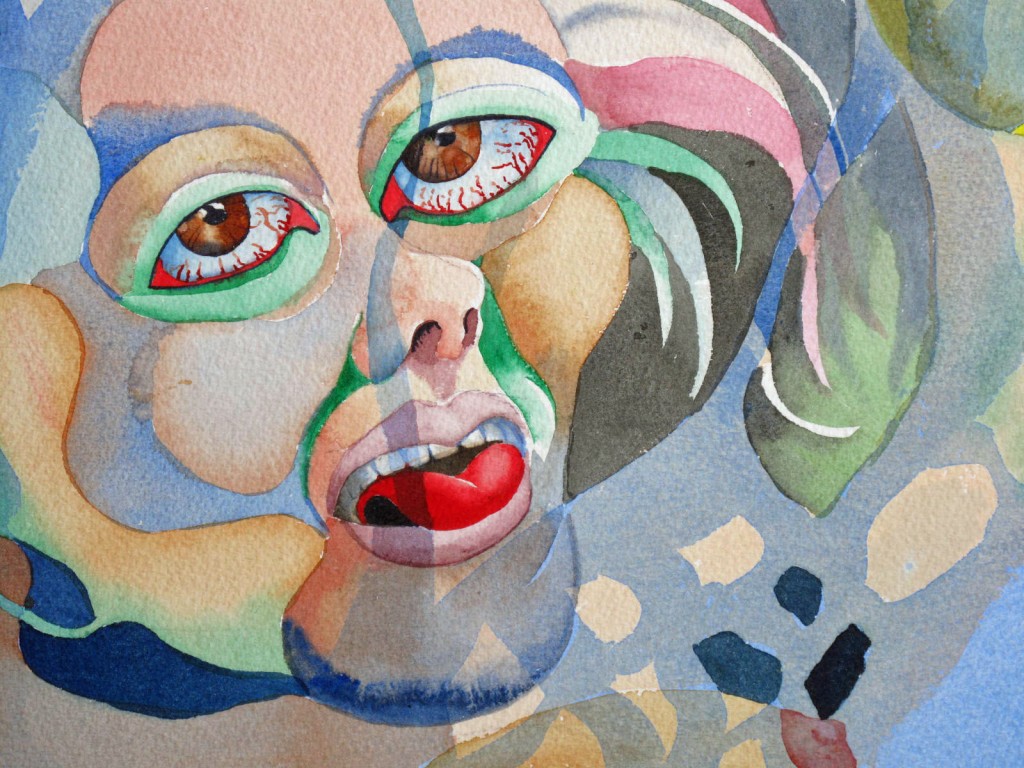 In 2013 and 2014 I spent a lot of time experiencing the medical system in St John's. It started August 13 with extreme pain which, after 24 hours, took me to hospital Emergency with life-threatening perforated appendix and toxic infection! I was there on serious antibiotics for 10 days and discharged, only to return a day later with a pulmonary effusion from a blood clot in the right lung and a further 21 days. I was ill for months with a return attack, warfarin and surgery until April 2014.
The whole experience left me with vivid images that were persistently in my mind, so I painted them out … and here they are!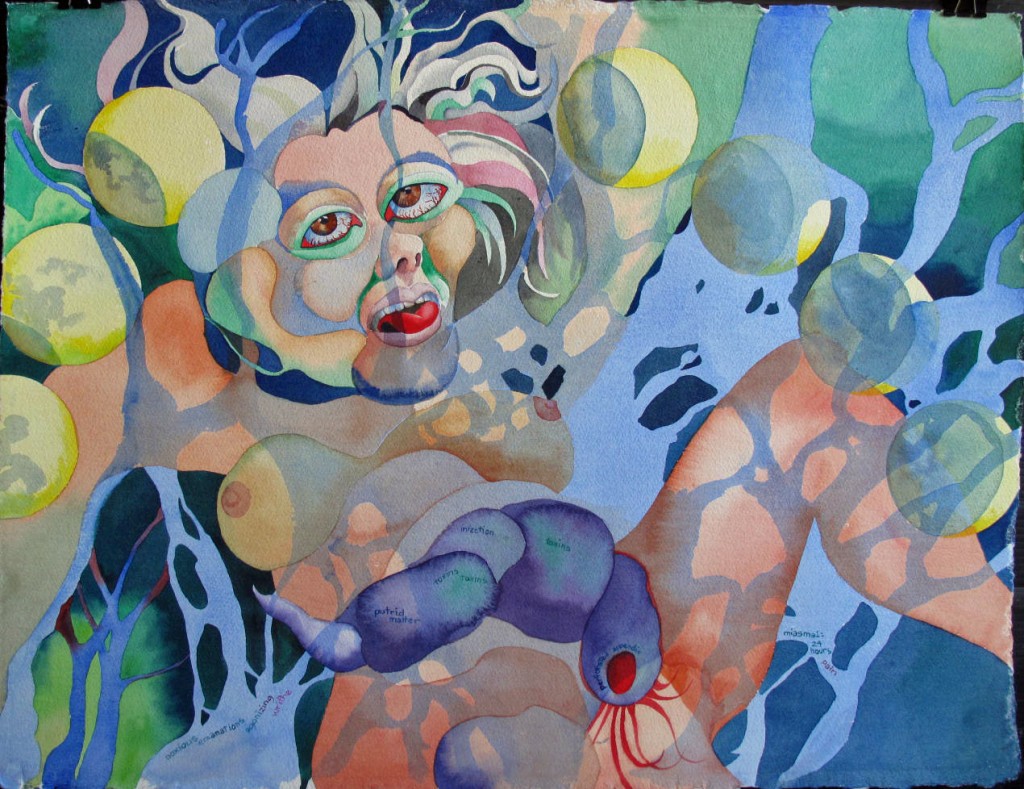 Miasma 1    The Agony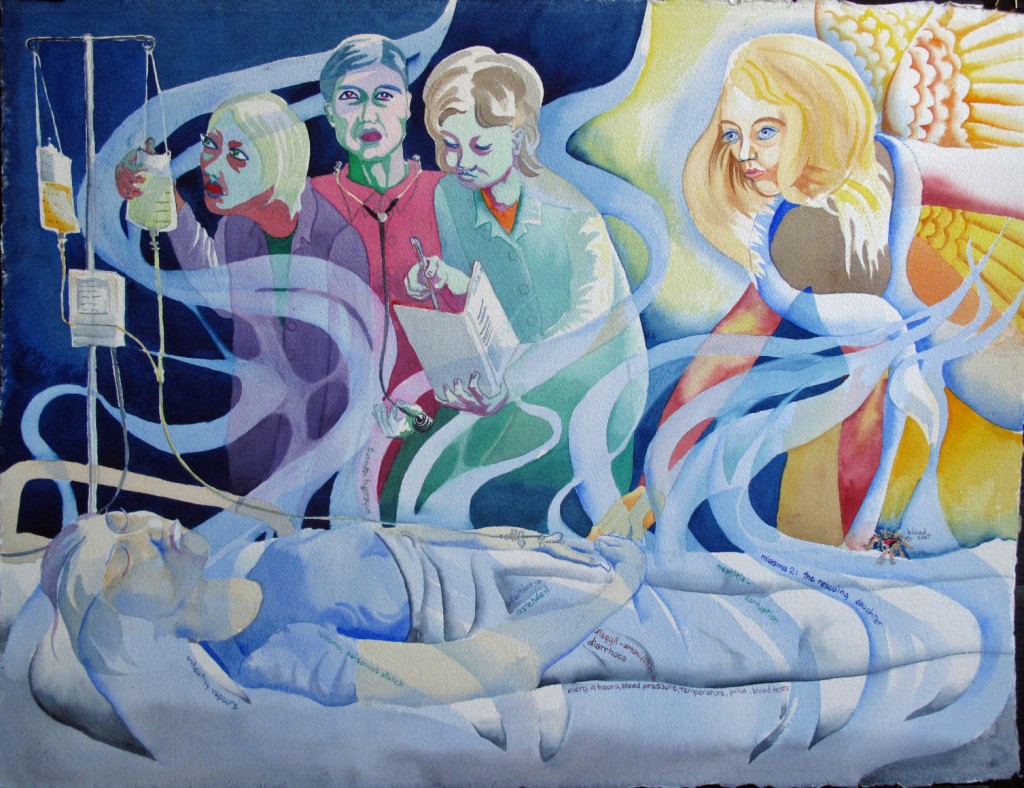 Miasma 2   The rescuing daughter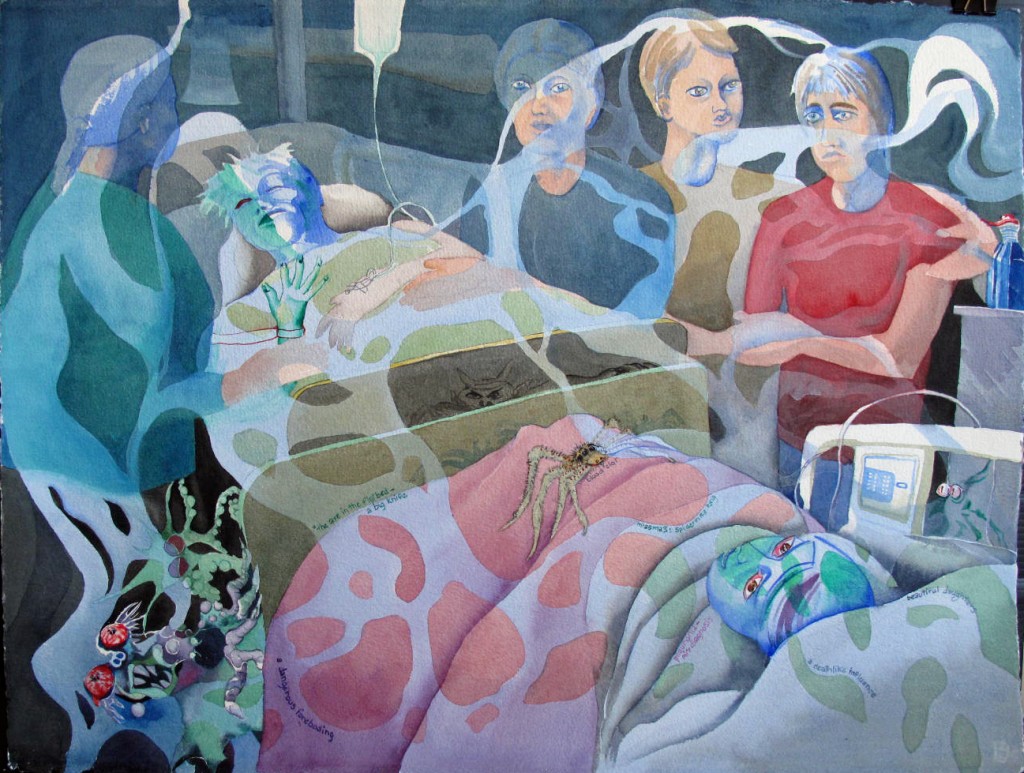 Miasma 3     Spider in the lung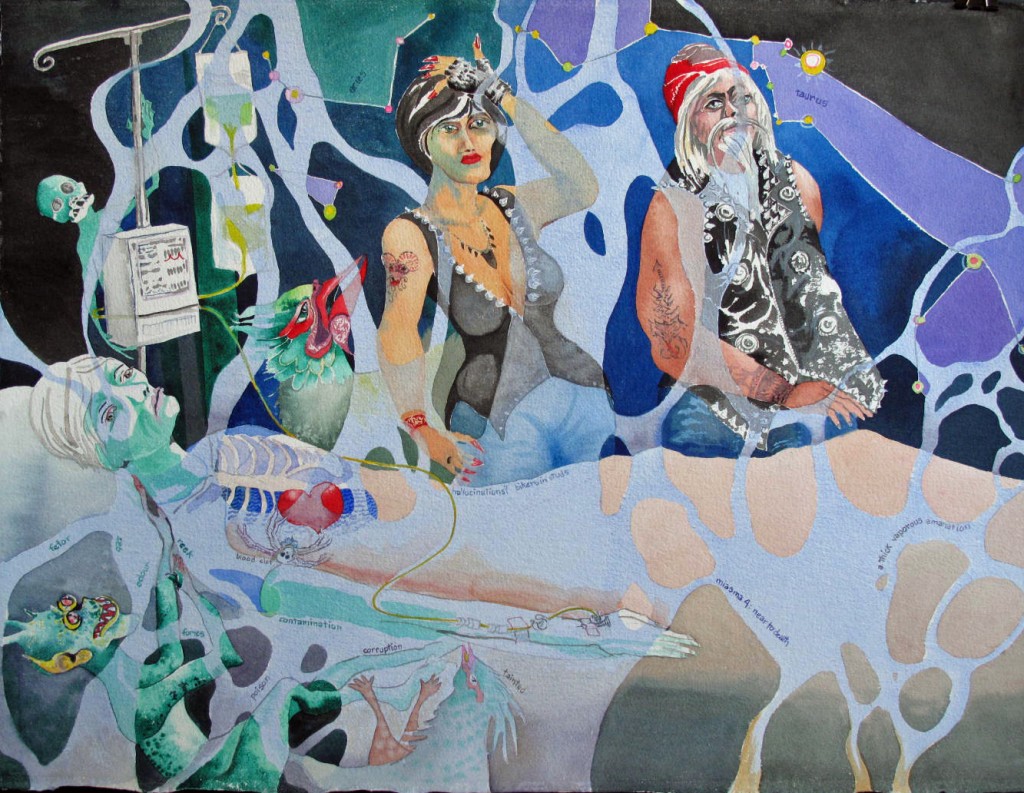 Miasma 4    Near to death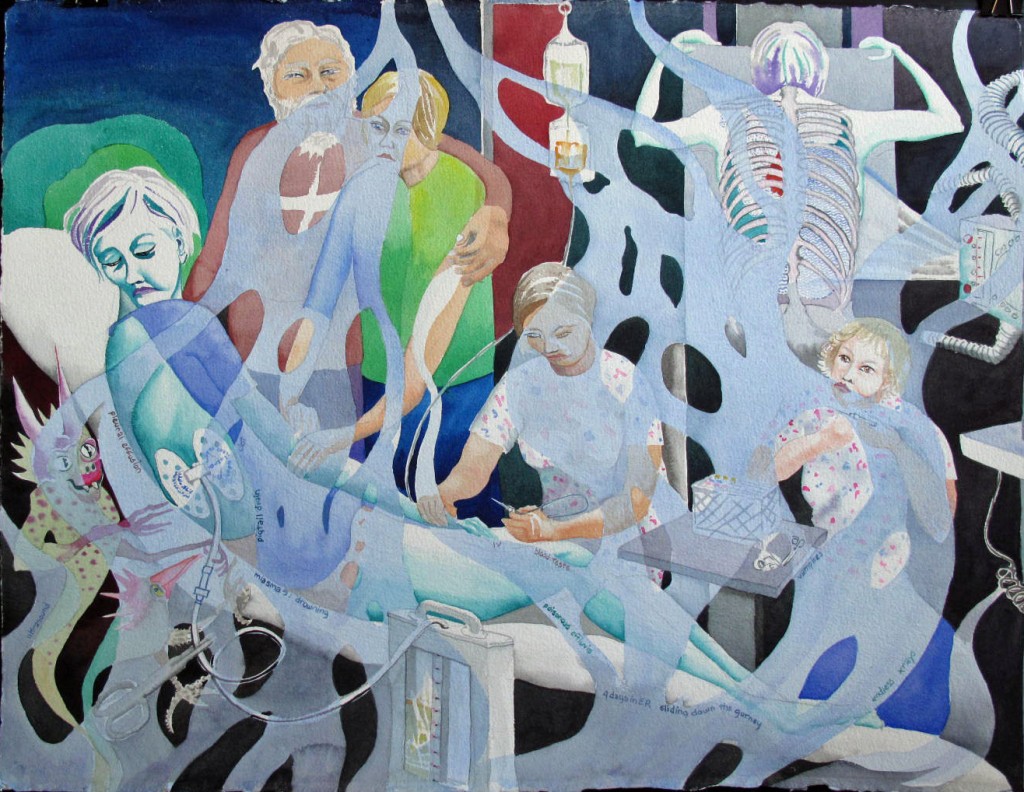 Miasma 5    Drowning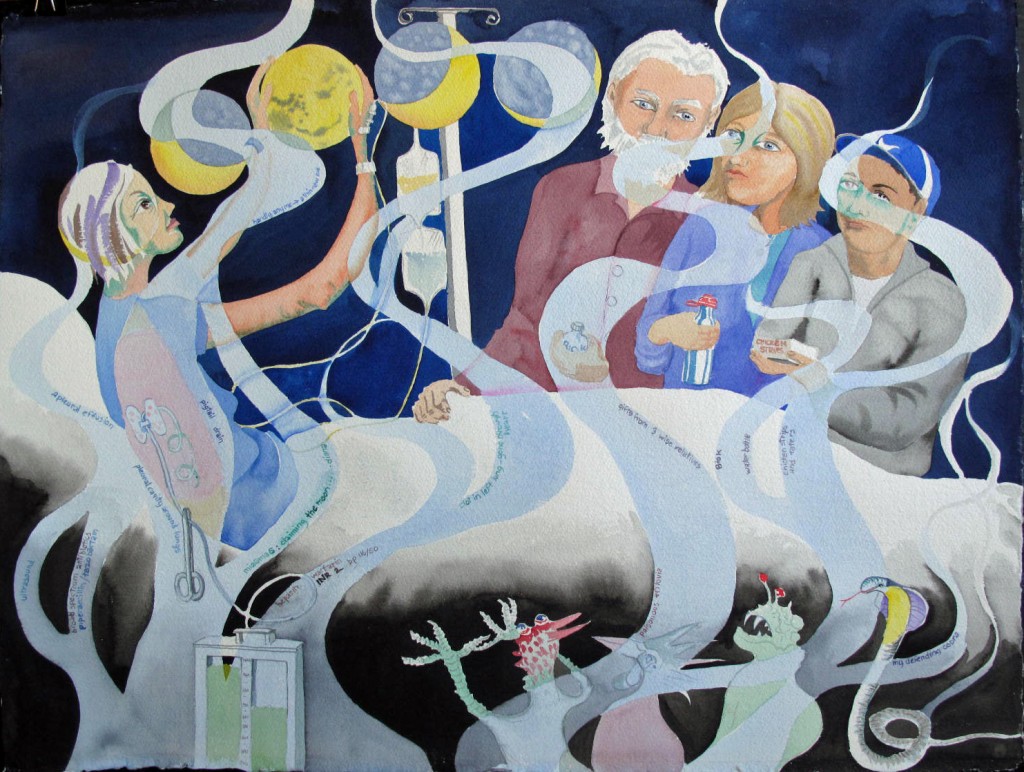 Miasma 6    Claiming the Moon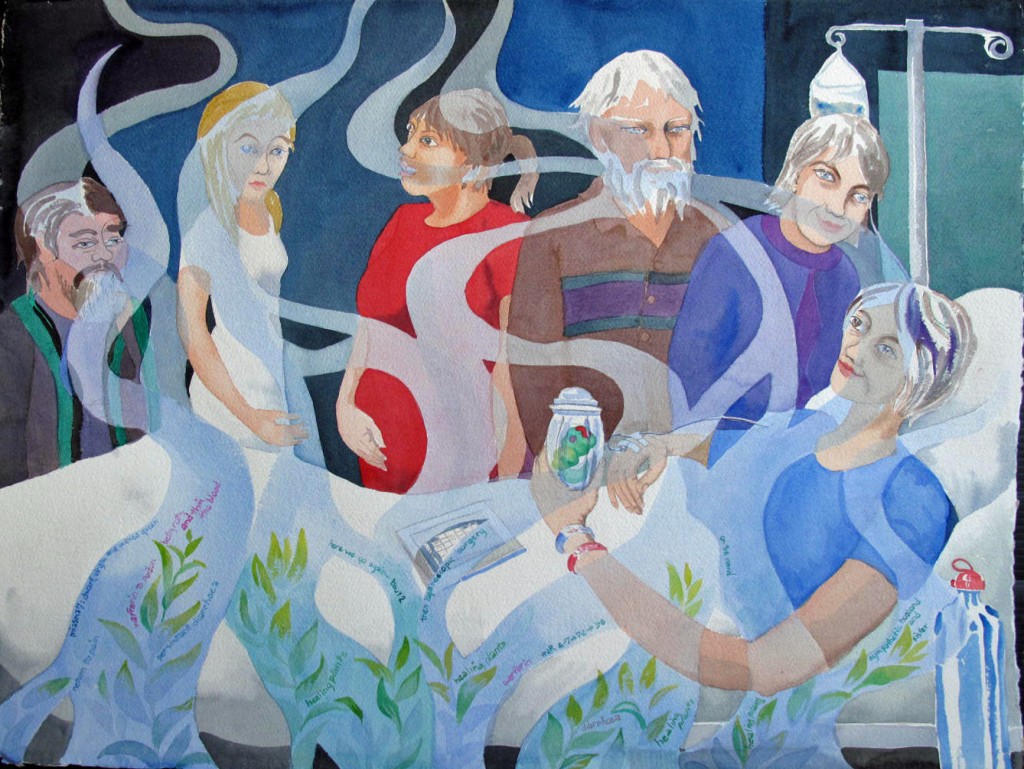 Miasma 7     The dwarf, the virgin and the wicked queen
Miasma
This word came into my head spontaneously as a title for these works, and then I looked it up in the dictionary ……
a noxious influence
a poisonous atmosphere rising from putrid matter and causing disease
noxious vapours from decomposing organic matter
poisonous effluvia or germs
a dangerous foreboding or deathlike influence or atmosphere
mephitis, fetor
contagion or corruption
…. and it seemed to fit!
2014    Floral Fantasy

    Crevice Garden    2014    watercolour    10 x 29 in

    Pansy Polka    2014    watercolour    10 x 29 in

    Iris Waltz        watercolour    10 x 29 in

Donna Clouston and I had a 2-person exhibition at the MUN Botanical Garden in St John's. We both worked in watercolour from materials we collected on spring trips to the garden centres.
2012    Fractured Forms     Christina Parker Gallery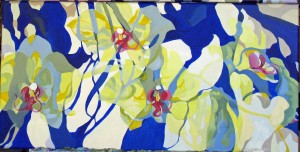 Orchid Shadow  10   acrylic on canvas     12 x 24 in

2011    International Women Celebrate
AyrSpace, Ontario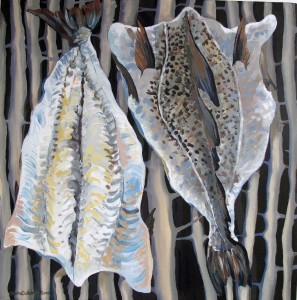 Salt Fish   acrylic on canvas     12 x 12 in

2010    A Little Spring Fling
Fog Forest Gallery, Sackville, New Brunswick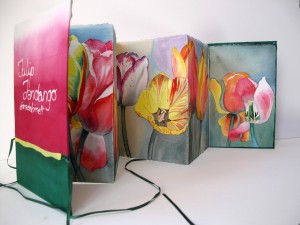 Tulip Fandango     a silk book     10 x 6 x 30 in
2009    Shorelines       Christina Parker Gallery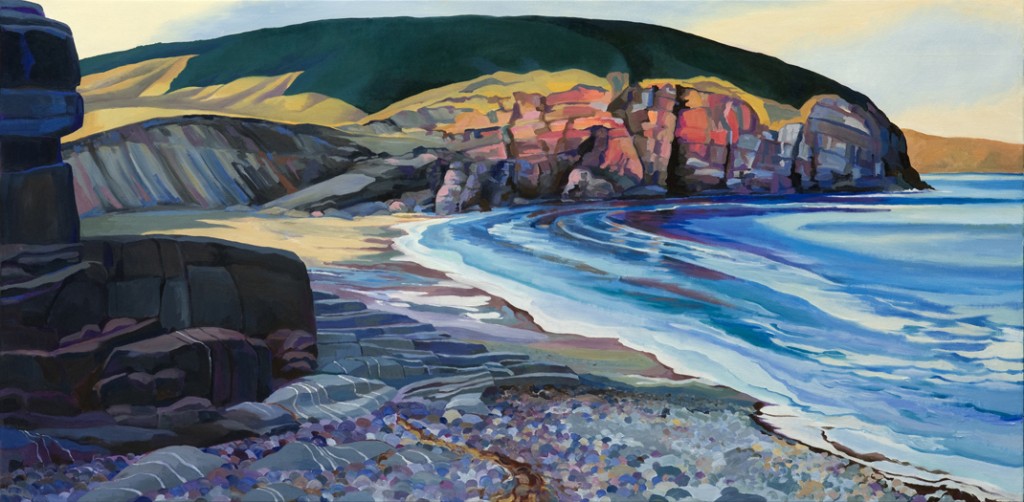 Middle Cove    oil     32 x 60 in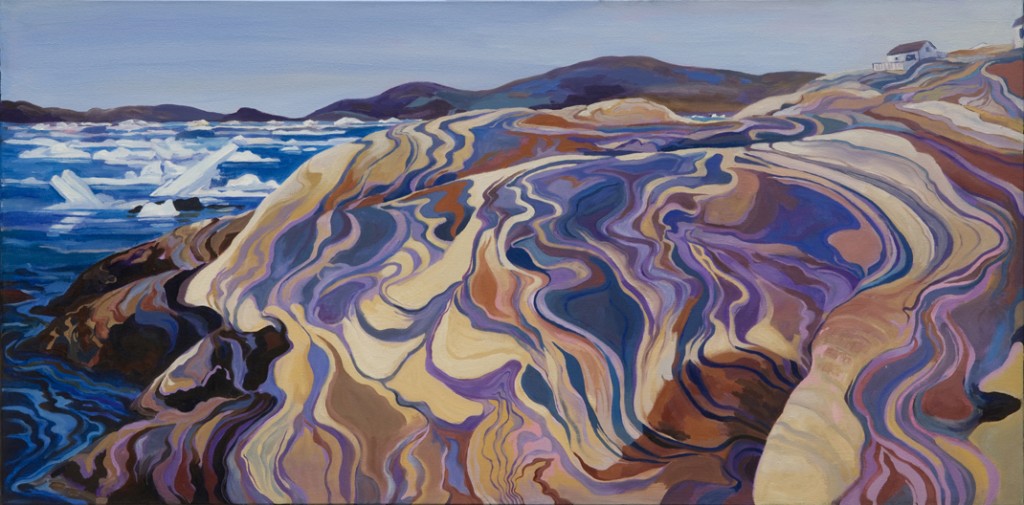 Banded Gneiss, Hopedale, Labrador    oil     24 x 48 in
2009    Migration     Devon House Craft Gallery   group show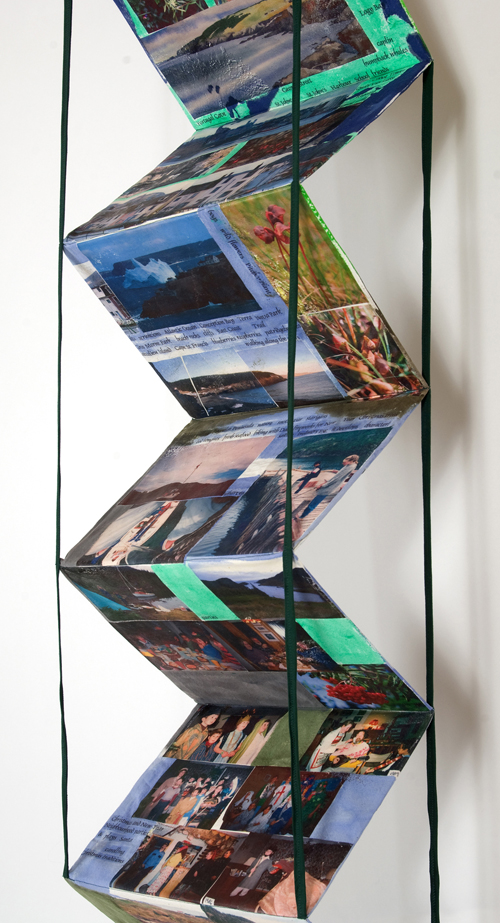 Emily's New Home    fibre and transfer mobile     60 x 12 x 12 in
2009    Contours   Devon House Craft Gallery group show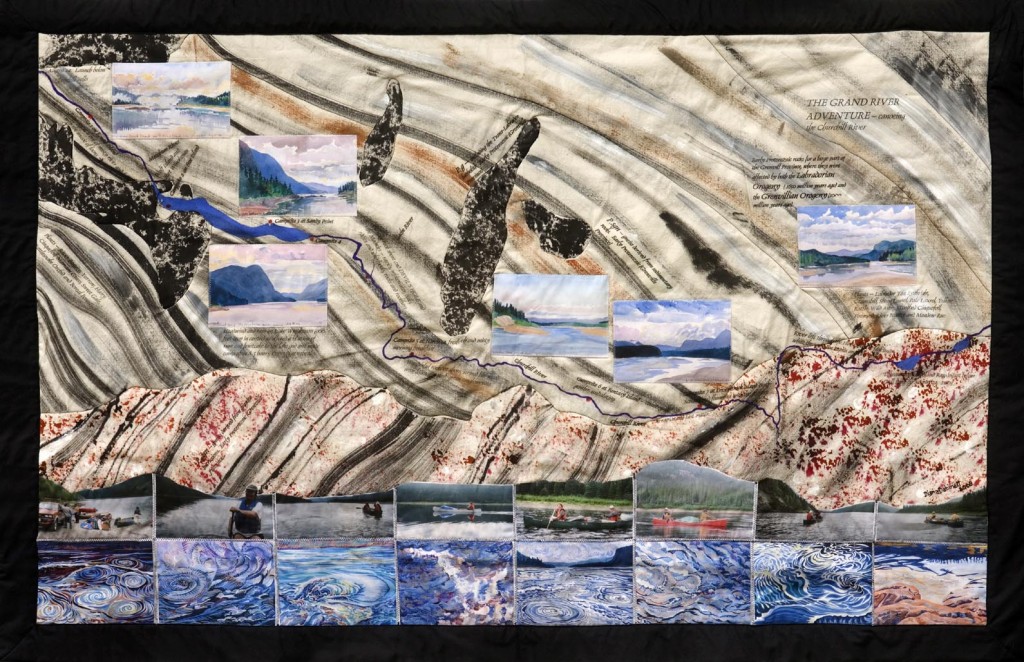 The Grand River Adventure    wallhanging     30 x 54 in
2009    Cupids 400
Devon House Craft Gallery group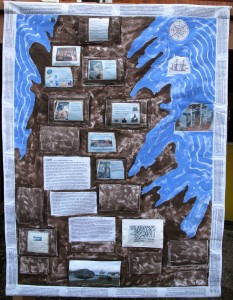 Cupids 400    wallhanging     54 x 30 in
2007    Ethereal     Christina Parker Gallery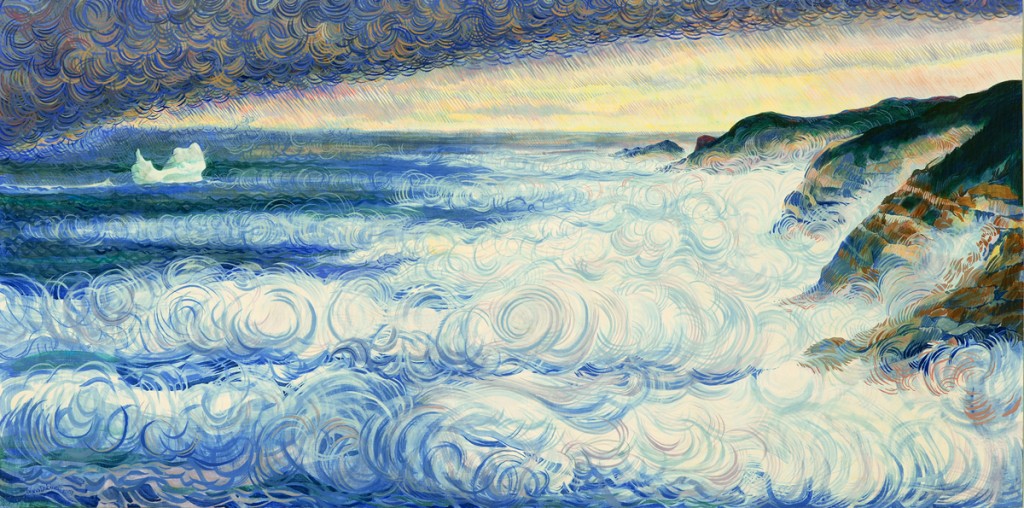 Icefog     egg tempera     24 x 48 in
2006    Rocks-Capes   Christina Parker Gallery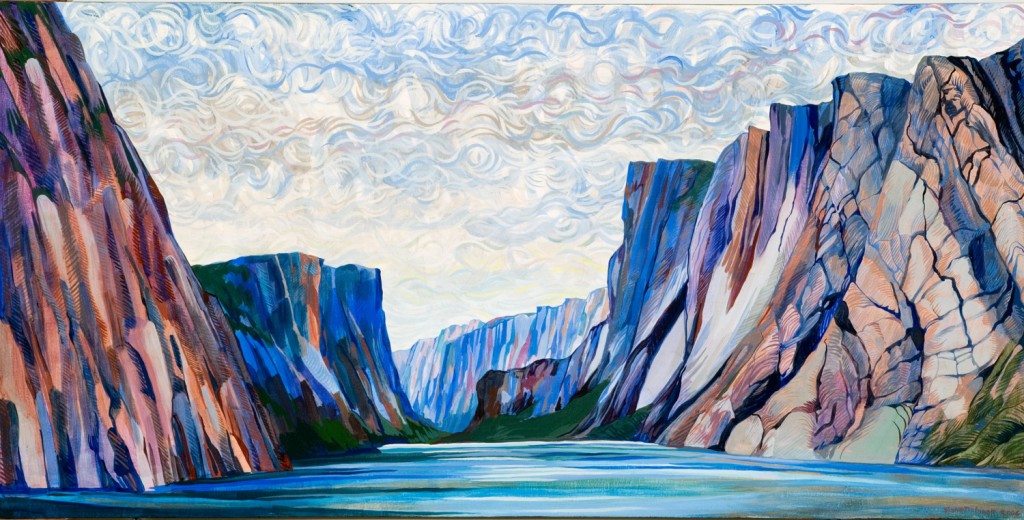 Western Brook Pond    egg tempera     24 x 48 in
2006    Internal Landscapes     Devon House Craft Gallery
This exhibition was about experiencing breast cancer in 1998 – 1999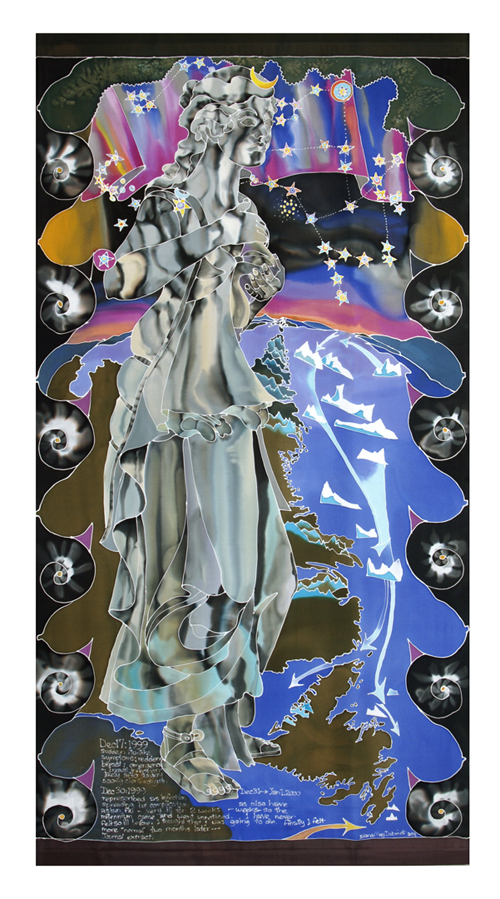 How I Celebrated the Millennium     dyes on silk     36 x 84 in
2005    Light-Stream
An exhibition with Carol BajenGahm    Christina Parker Gallery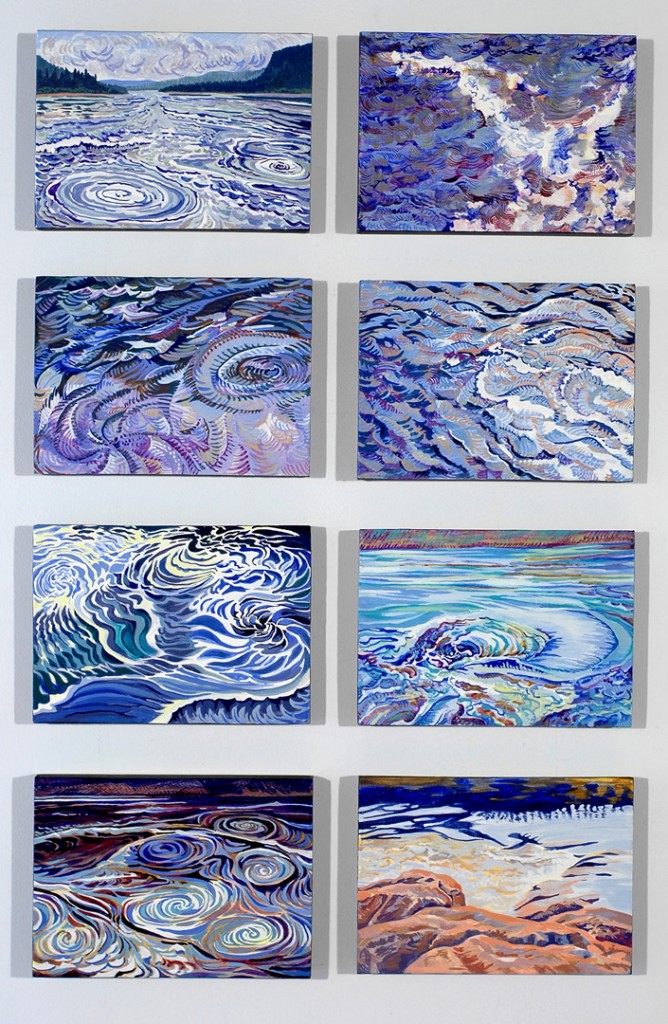 Down the River     egg tempera 5 x 7 in each
2002     Groundcover
These were paintings made during or after an artist residency in Gros Morne National Park, Newfoundland.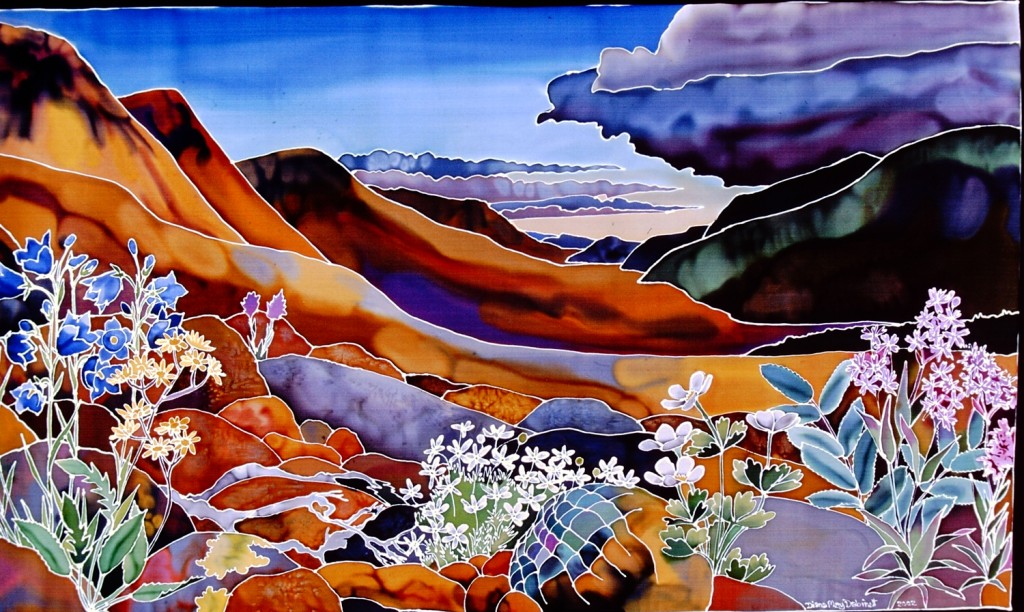 Alpine Campion in the Gulch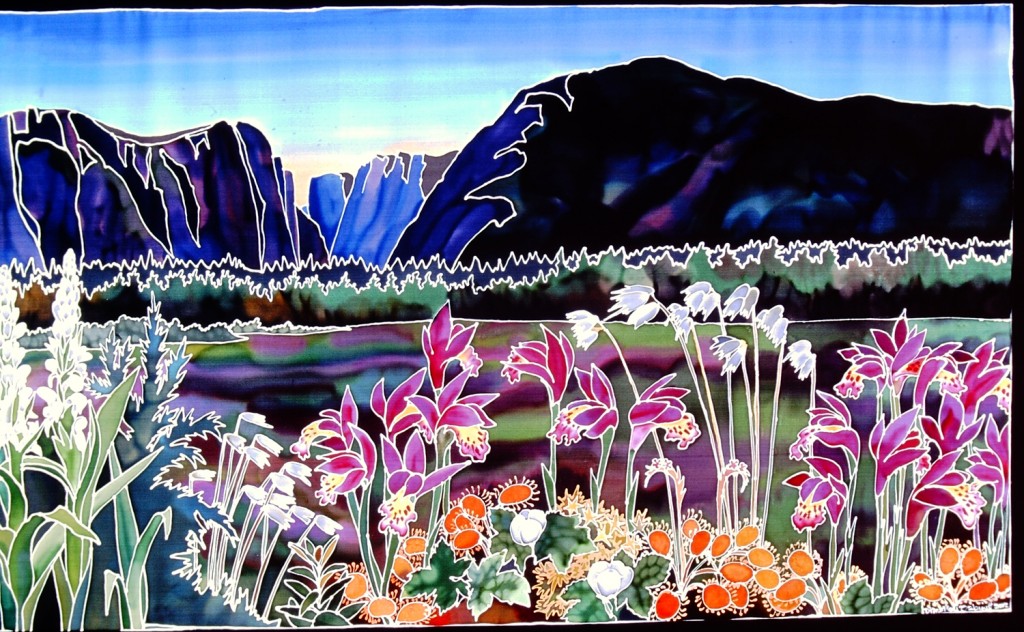 Arethusa Orchids at Western Brook Pond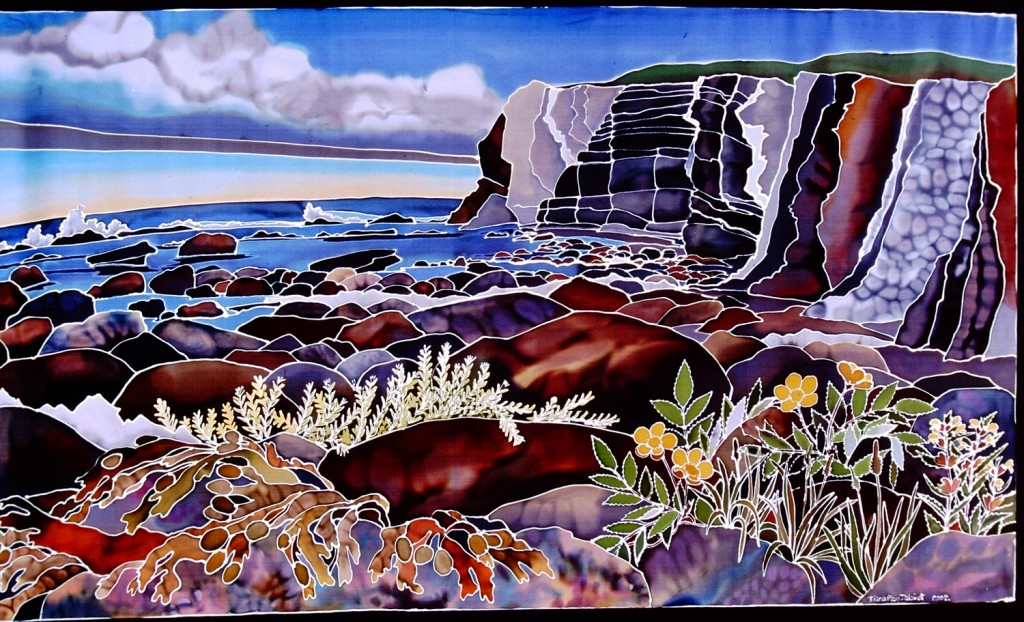 Green Point
2000    Trace   Devon House Craft Gallery   group show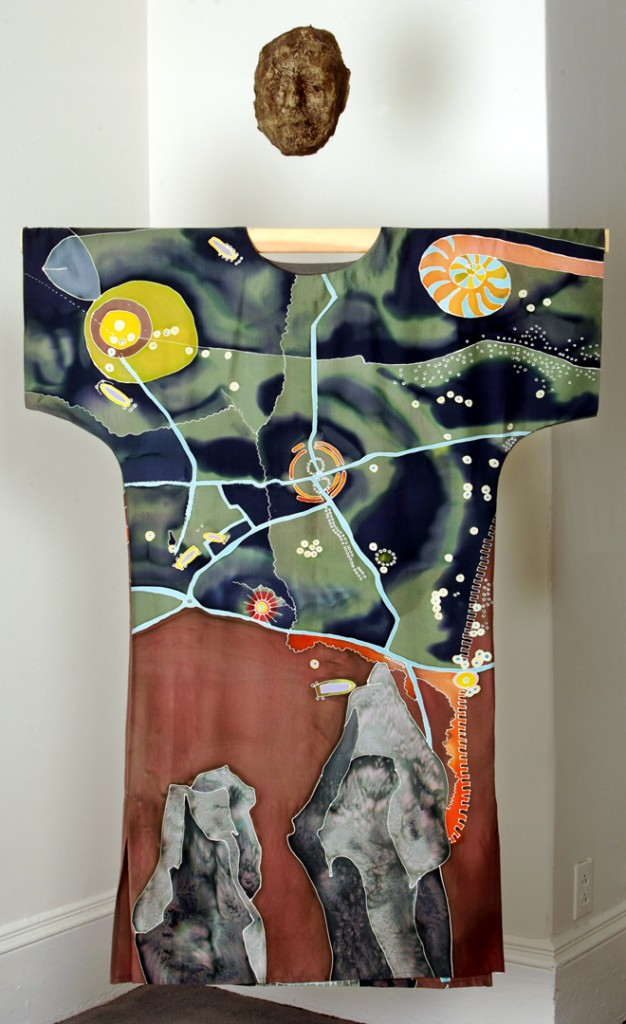 Celtic Trace     dyes on silk and papier mache mask     84 x 45 x 6 in
2000     Castles in the Sea — All About Icebergs
This was an exhibition following a collaboration to produce a children's book about icebergs with Laura Jackson, written by her husband, Lawrence Jackson.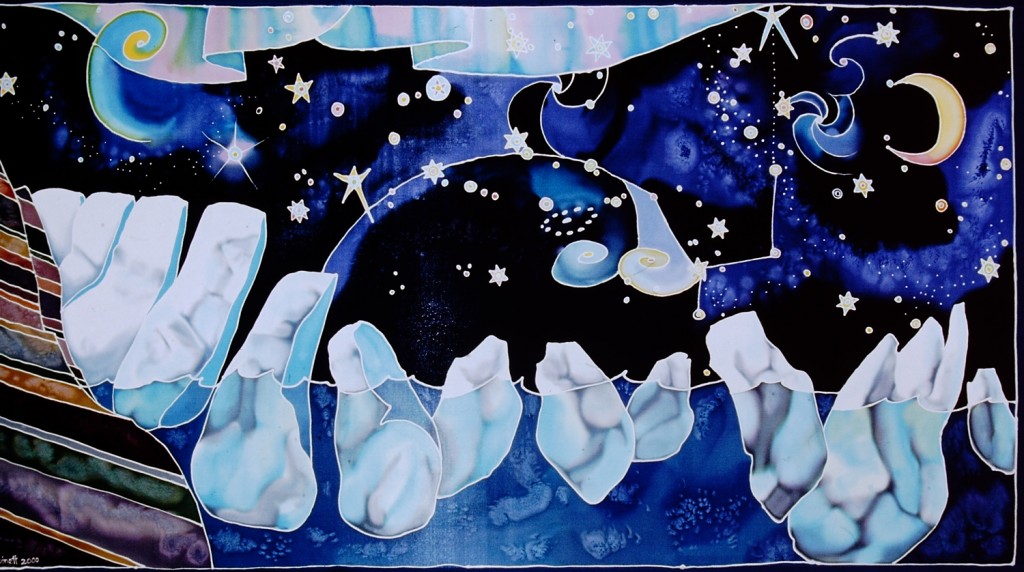 Glacier Calving    dyes on silk
1997 — 1999     Pathways
This was a two person, installation exhibition with Tara Bryan inspired by the East Coast Trail between my home in Shoe Cove and her home in Flat Rock just north of St John's. It travelled through Ontario and Eastern Canada.
     Over the river and to Shoe Cove Island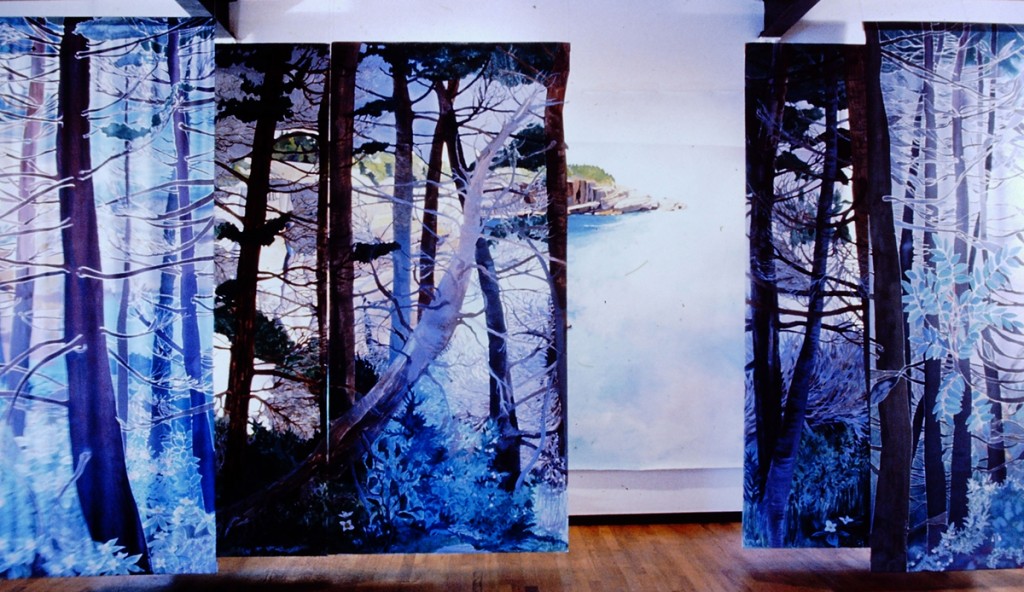 Looking through the trees at Small Point
     To Red Head
1997     Discovery
A small group show that toured the Maritime galleries.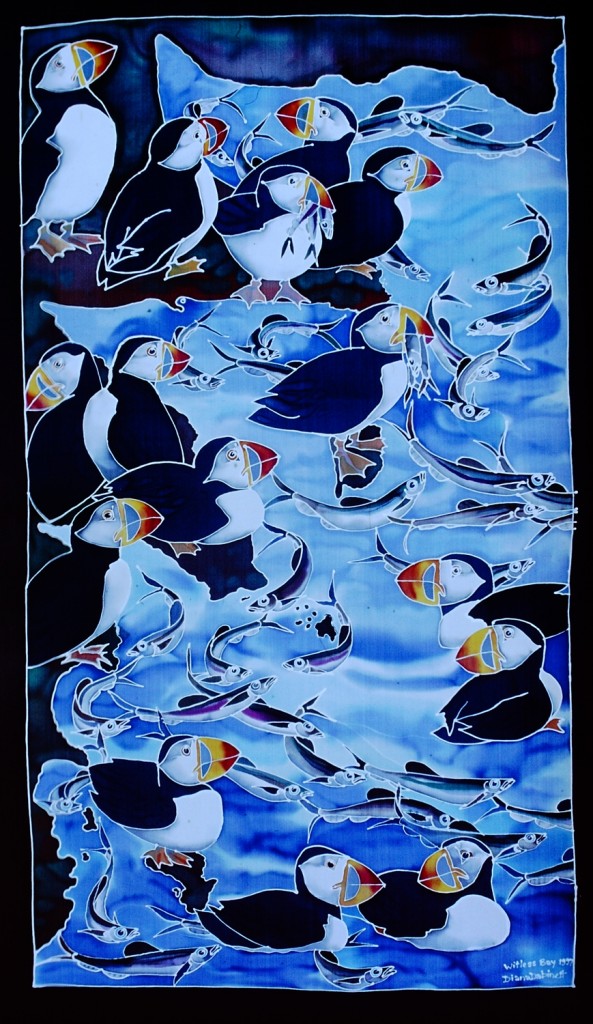 Bird Islands in Witless Bay
1989 – 1992    Tropical Garden/Newfoundland Stream     Provincial Art Gallery
These works are from the Tropical Garden of my home in Bulawayo, Zimbabwe contrasted to the wildflowers of my present home in Newfoundland.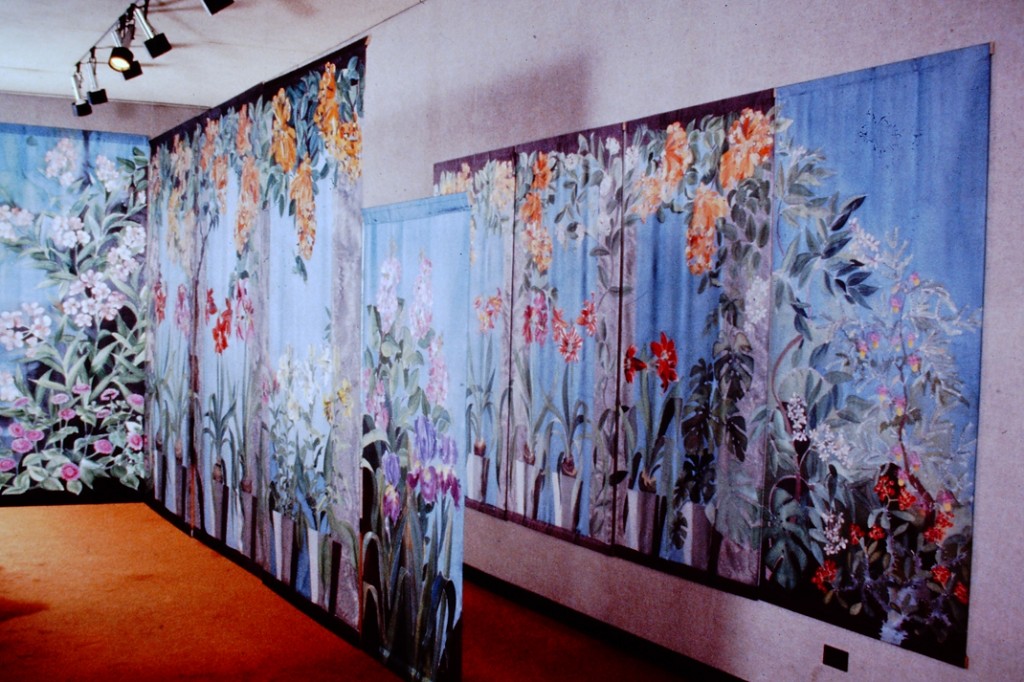 Our pergola festooned with Golden Shower
1985     Old Fields — New Paths
This exhibition of Canadian Crafts was exhibited in Japan and New Zealand.  My silk book,To Find A Pitcher Plant, commemorated a walk with my mother around Berry Hill Pond with my mother in 1982.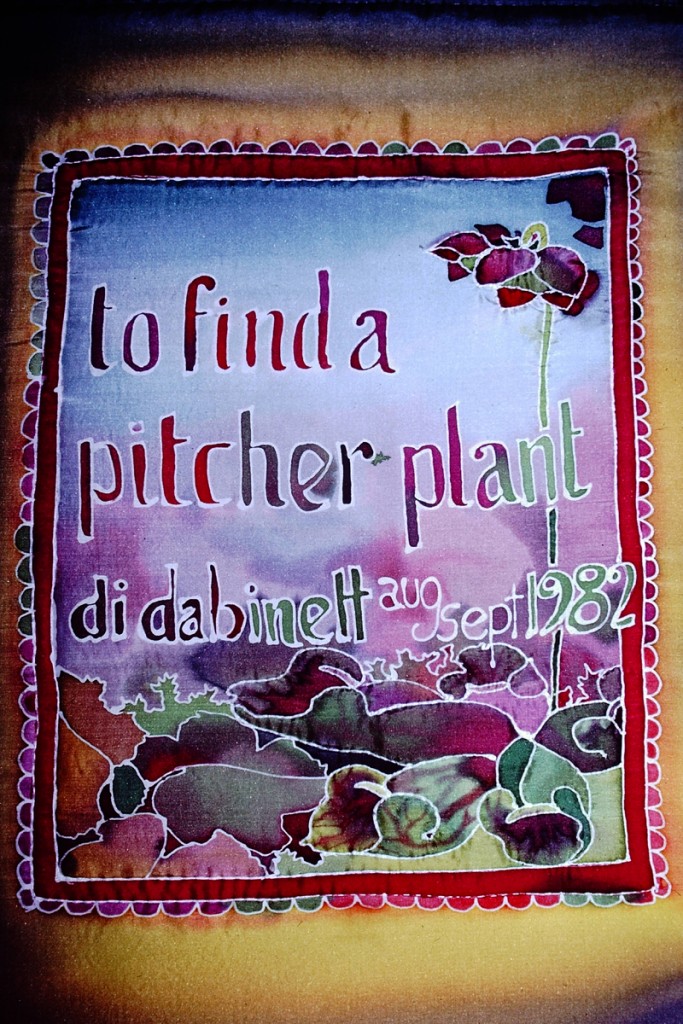 The cover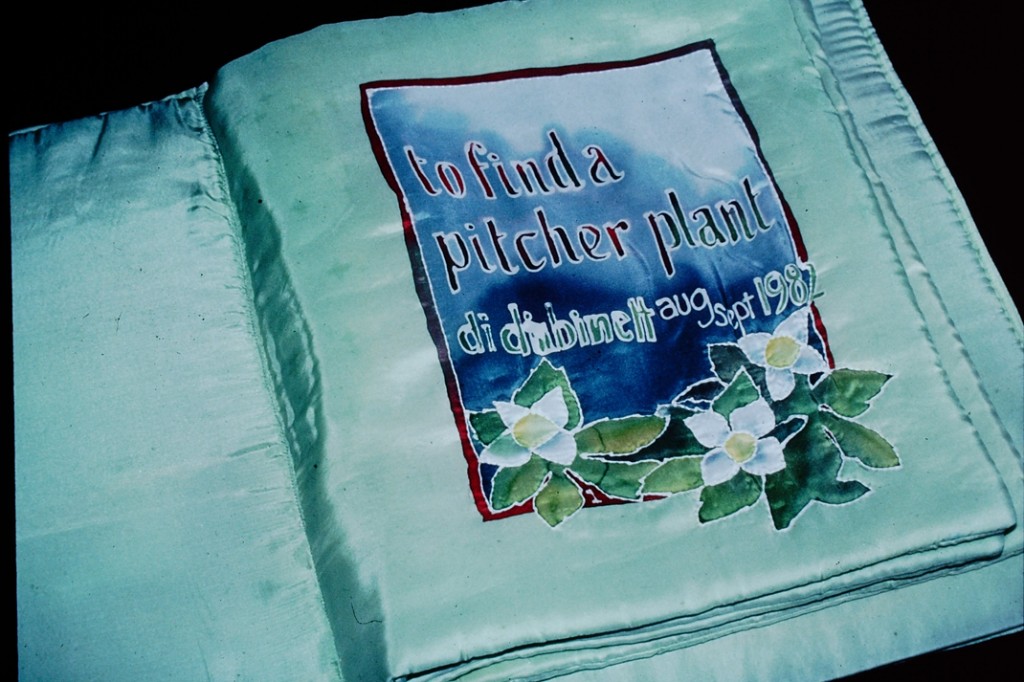 title page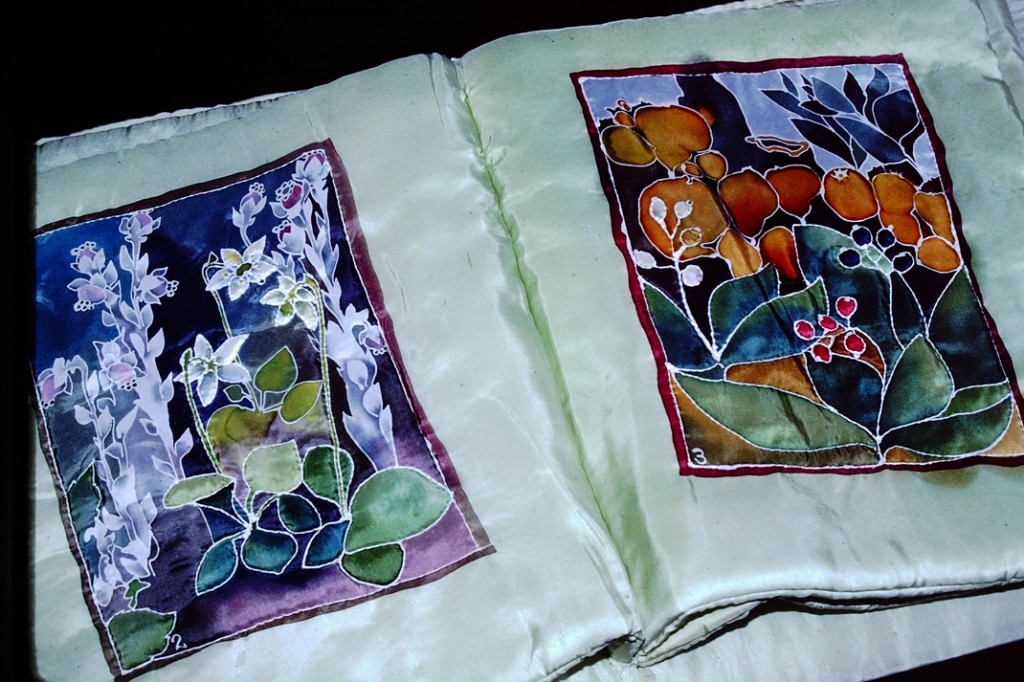 page 3 to 4
1984     Silken Shorelines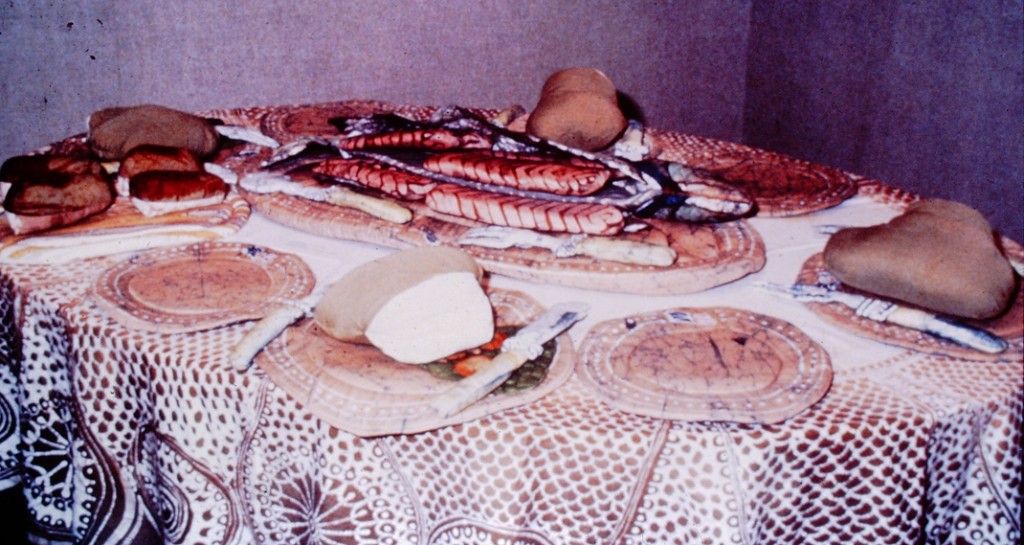 Salmon Dinner     batik on cotton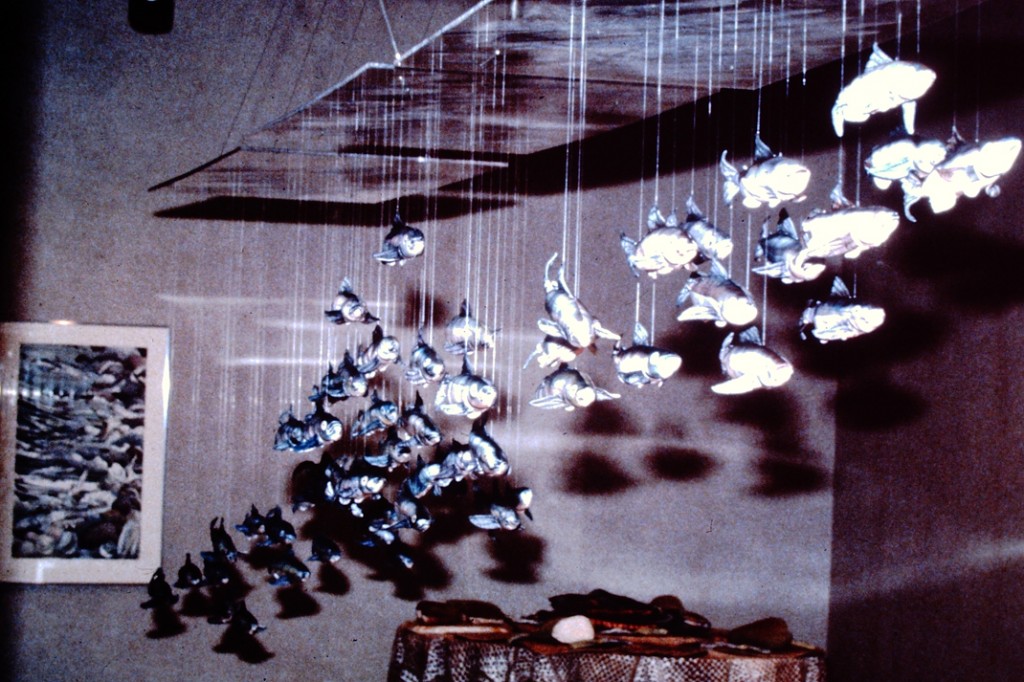 School of Caplin   silk sculpture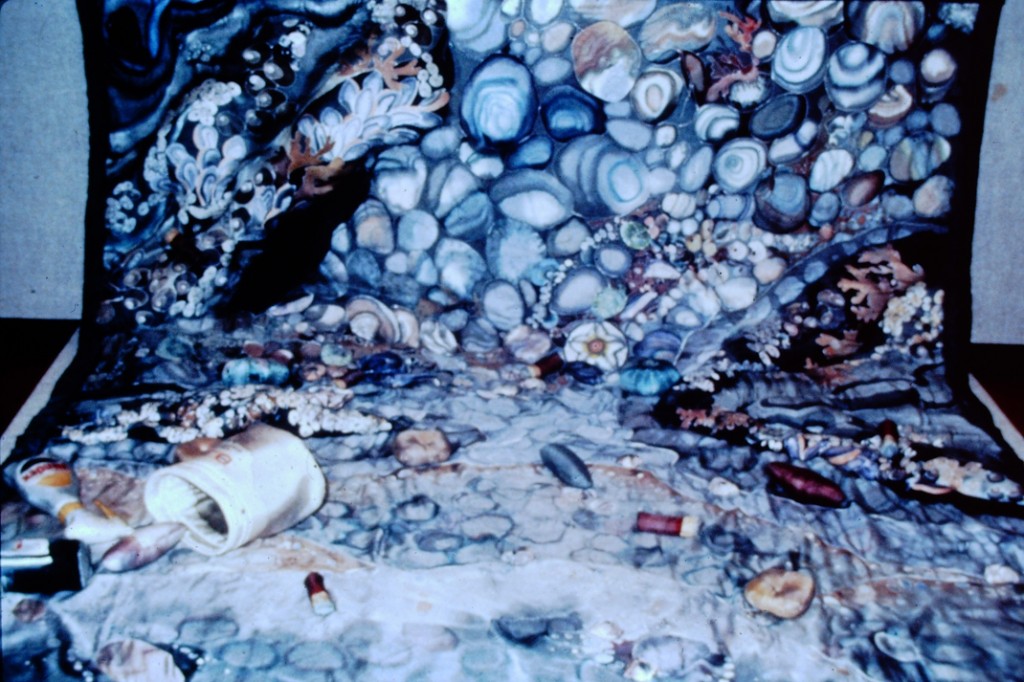 Inshore Impact Assessment   silk sculpture
1983     Newfoundland Groceries
A series of tongue-in-cheek watercolours about the absurdness of advertising as a solo show in the NL Arts Council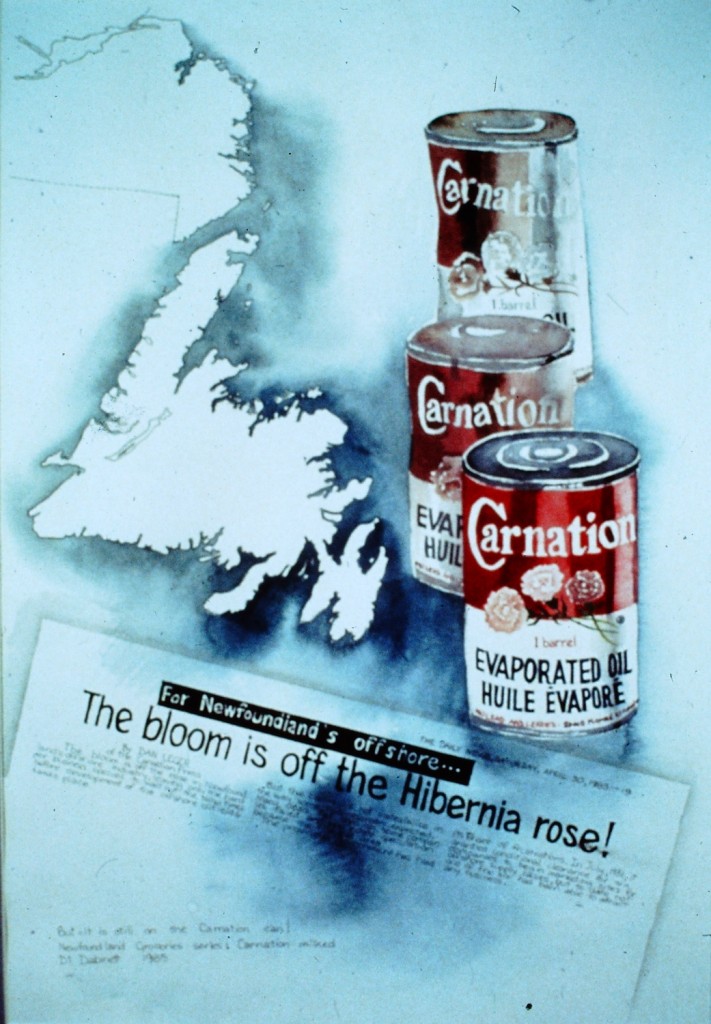 Evaporated Oil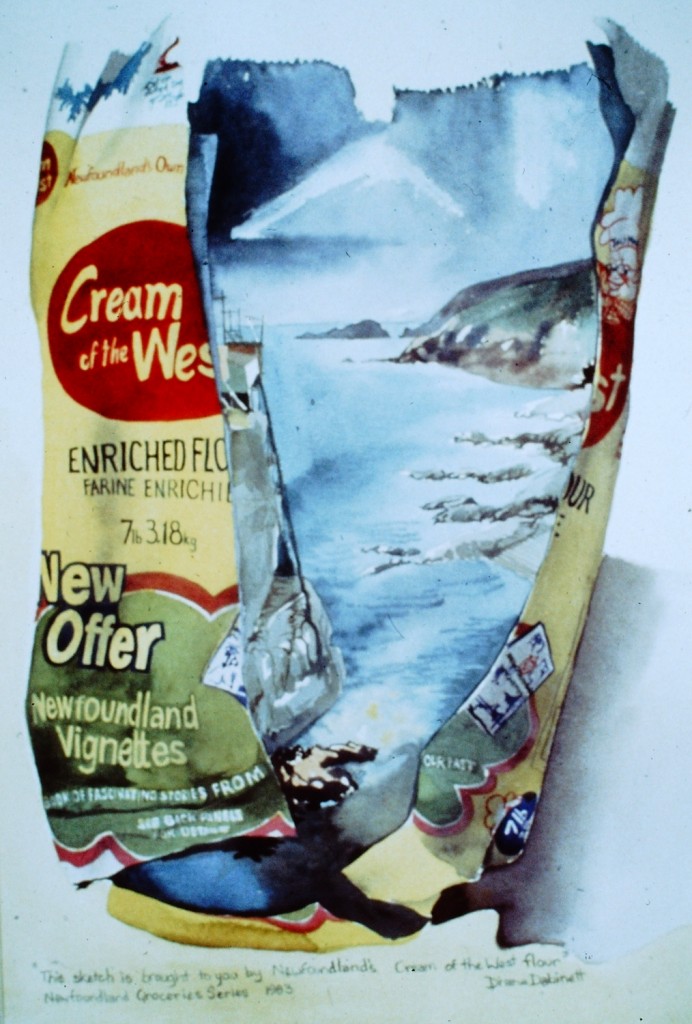 Cream of the West Flour
1982     Atlantic Visions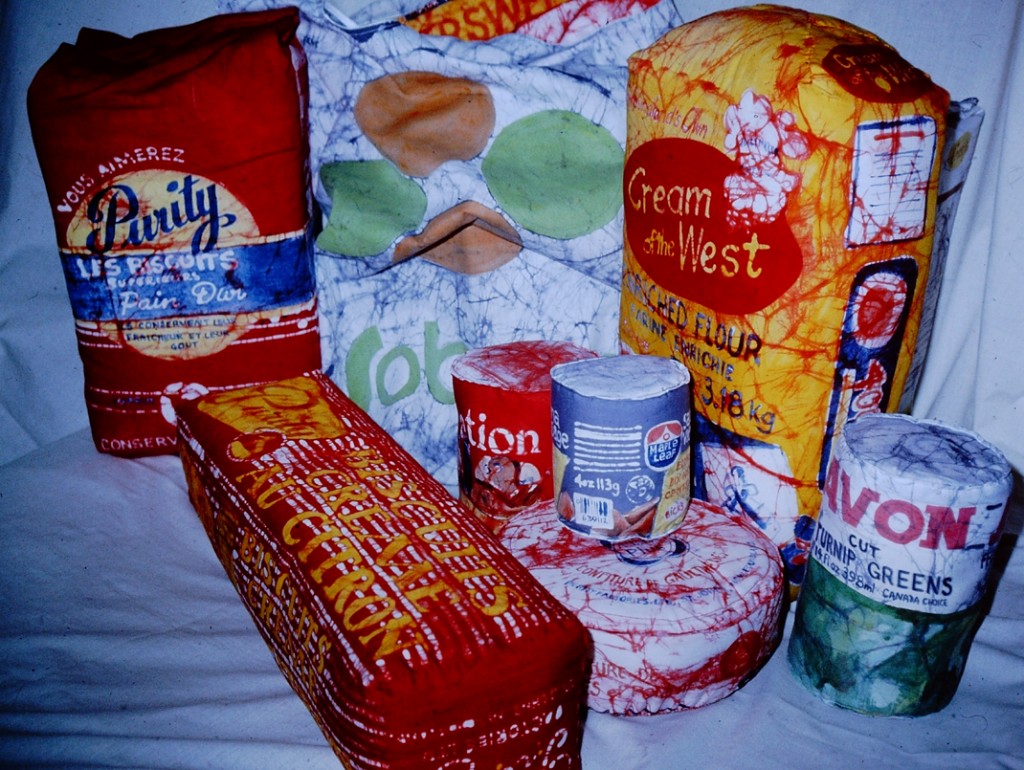 Sobey's Grocery Bag     batik on cotton
1981     Fabric Fish
A solo show in the Provincial Art Gallery
     Sea Floor
1972    Some Works
My first solo exhibition in the Branch Library galleries in London., Ontario!
Apologies for the poor image.