Activities
March 2018:
I have been accepted into 3 exhibitions this year.  The first one is most exciting as it is an exchange exhibition of watercolours between the Canadian and French Societies. The work will be seen in Halton, Ontario in June and moved to Avignon in France in September. My piece is called Through the Narrows.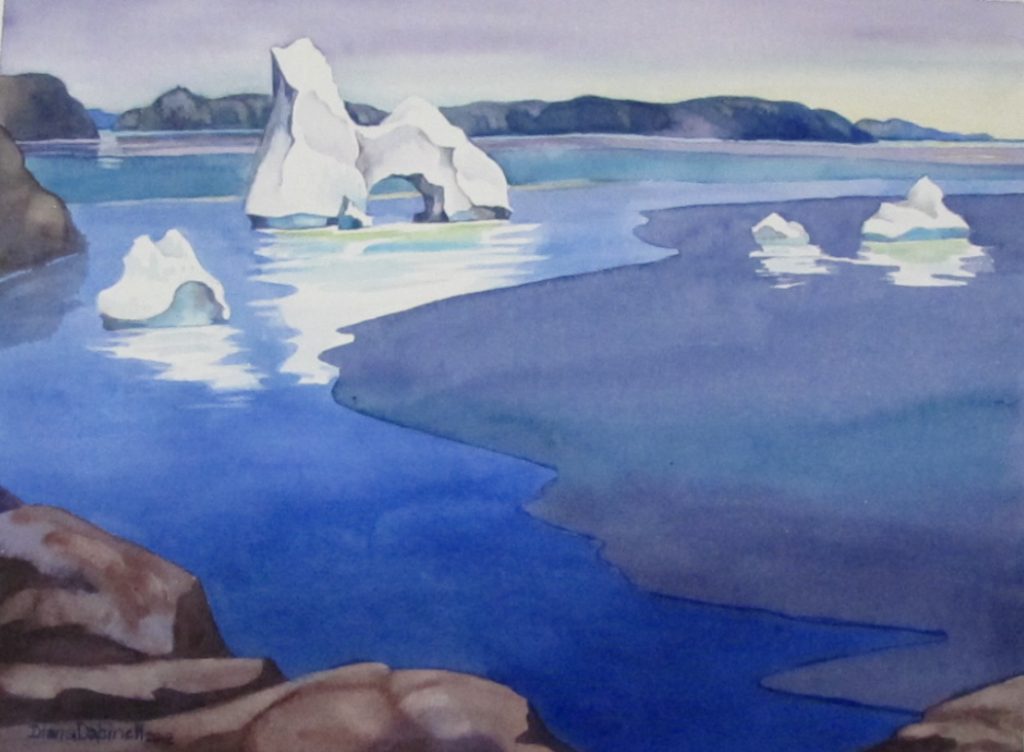 The second show is in Etobicoke Ontario in June at the CSPWC exhibition, Water Reflections. My piece was painted on location in August 2017 and is called Blackhead Cove.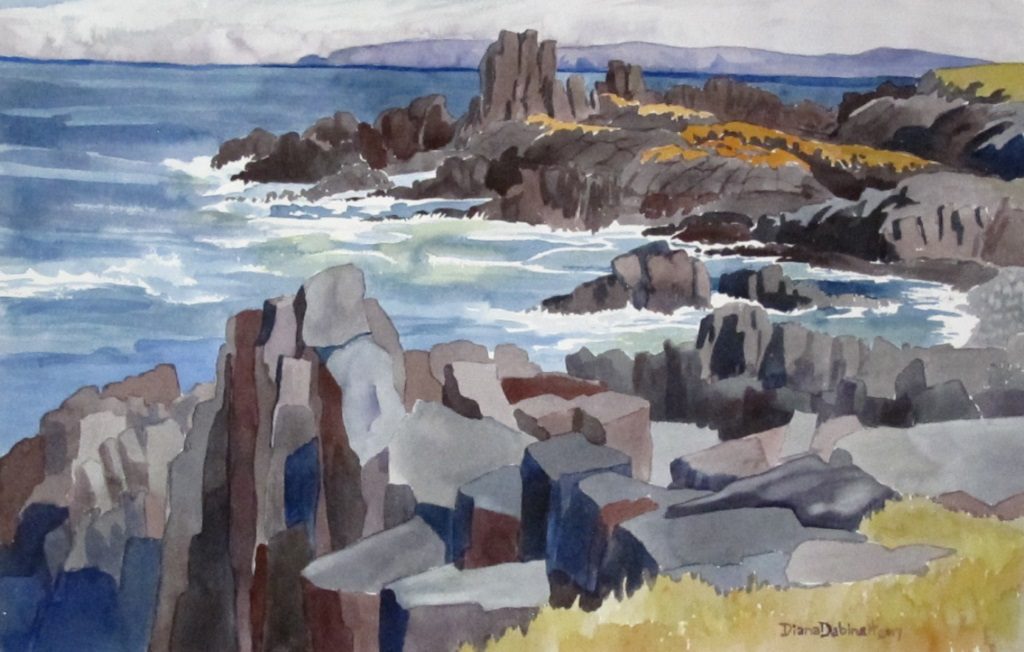 The third exhibition is at the Gainsborough Gallery in Calgary, Alberta in July. My piece is called Death Valley View.
April 2017:
I was juried into the Canadian Society of Artists which is really exciting. The really great thing was the wonderful comments made by the Jurors, and they worked independently!
"Simply wonderful, stylistic and unique"
"Beautiful, unique and well executed body of work!"
"Demonstrates a mastery and deep understanding of her chosen subjects. Aesthetically pleasing"
"I really appreciate your fresh originality. Good balance of contrast and colour.Textures and overlays have been incorporated with great skill and care. Nothing is overworked – you knew when to stop. My favourites are #9 and #10."
I am so flattered! Now I am known as
Diana Dabinett B.A.(F. A.), CSPWC, CSA, FCA
October 2016:
A painting was accepted into Open Water, the annual show of CSPWC in Toronto. I flew up to see the show and attend the opening … and won the Jarvis Award for my piece!

October 2015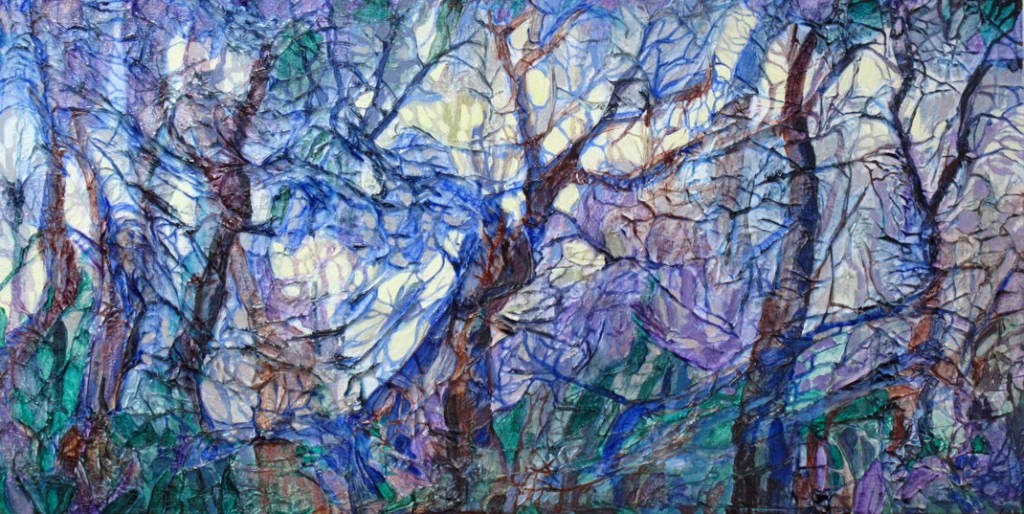 Boreal Texture 1     acrylic on board
Here are some new pieces but still on the theme of our boreal forest. These use crushed and crumpled tissue paper glued to the board with lots of acrylic medium. a thin wash of acrylic paint collects in the texture and suggests twigs and branches which I develop with thicker and thicker paint. There are four in the series so far and you can see them at Christina Parker Gallery in the Christmas Show which opens on Friday December 4.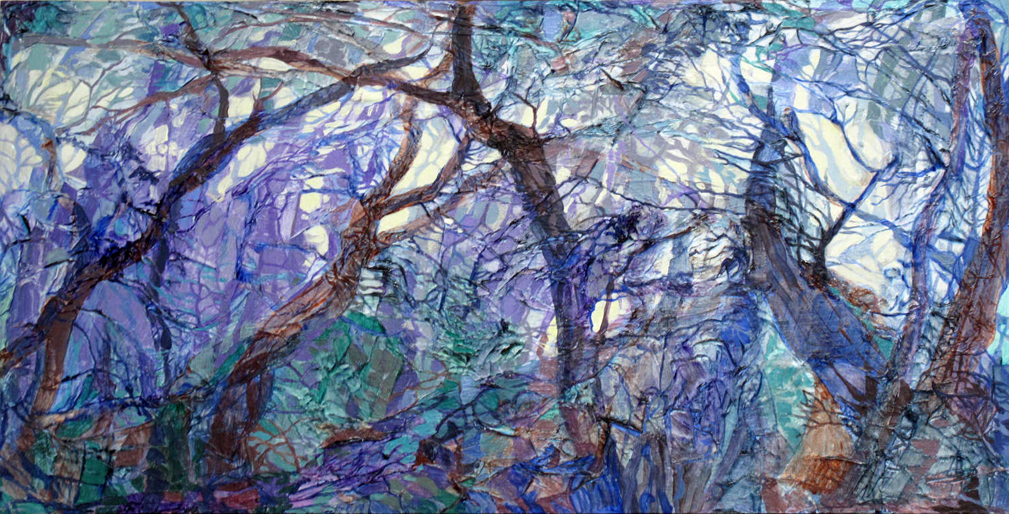 Boreal Texture 2   acrylic on board
end of September 2015

Parry Sound Shoreline Trail    watercolour
I made another visit to Killarney Park in Northern Ontario with the Toronto members of the  CSPWC and the Ontario Society of Artists. Heidi Burchardt picked me up from the airport and we went to visit Anthony Batten. What a wonderful experience to see his work, one collection for an exhibition in Toronto, and a number of huge pieces for a commission for the houses of Parliament and the Library. Then Pims #1 on his flower festooned balcony overlooking downtown. What a treat! On the first day going north we stayed at Oak Island, owned by Heidi's family, and painted the shoreline trail in Parry Sound. Another fabulous experience! Then onwards for several days of intense painting at Killarney Park. The advantage of painting with a group of experienced artists is so vast … seeing their techniques and innovations, their equipment and their company.

Lighthouse Point 1    watercolour
September 2015
I just spent a week on Fogo Island painting watercolours and collecting material for my new series about On The Edge Challenging environments and the plants that grow there. The weather was not the greatest with cold rain many days. The Island has a thriving fishery and a growing tourist industry. The latter mostly developing from the amazing architecture of an Inn and 4 artist studios by the Shorefast Foundation and Zita Cobb. Do look it up on line if you are interested.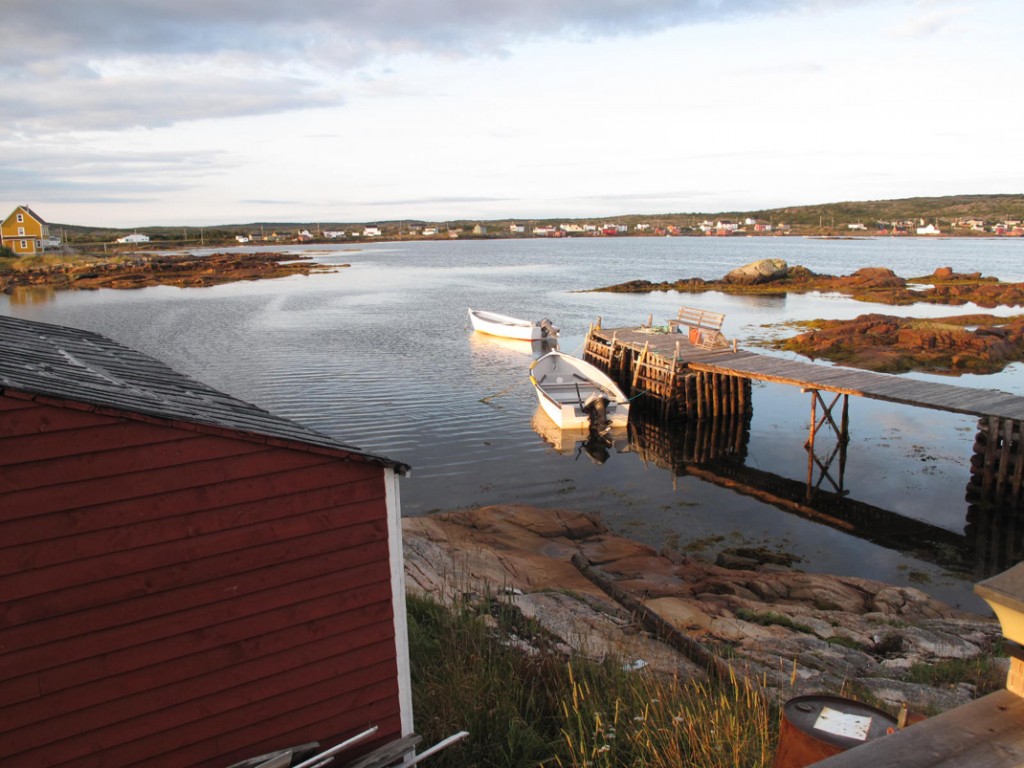 The view from the cottage.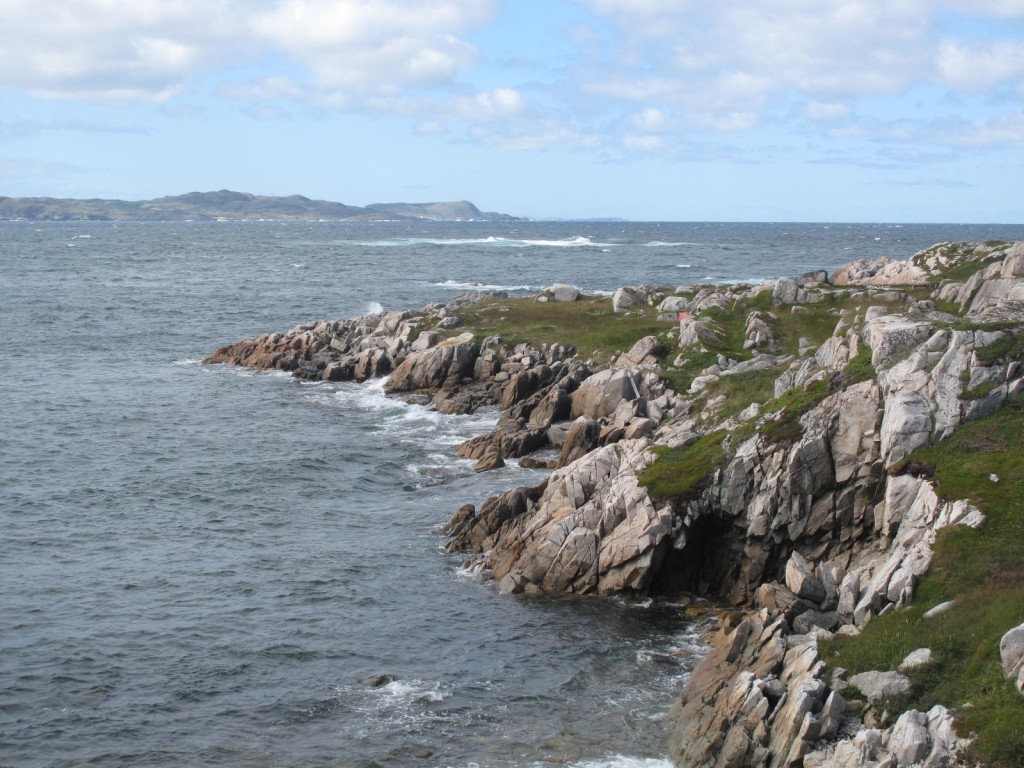 Along the shore

Black Rock Cove – a quick sketch!
March 2015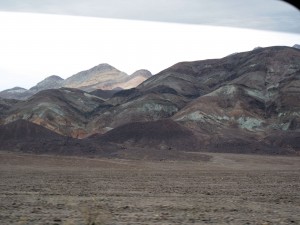 Death Valley, California 2015
In March it was very exciting to spend six days in Death Valley. It is full of interesting geology …. canyon walks, a salt flat 282 feet below sea level, Ubehebe Crater, sand dunes and endemic fish only one inch long. I did several watercolour sketches and took over 800 photographs!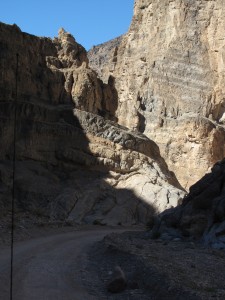 '
Titus Canyon
I also visited an artist friend in Holywood, Florida for a week in January. We visited several botanical      gardens, Art Galleries and spent a day in the Everglades at Shark River. I made several watercolour studies there.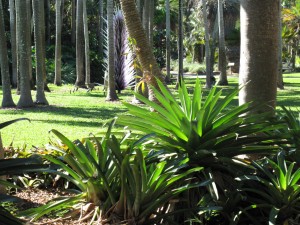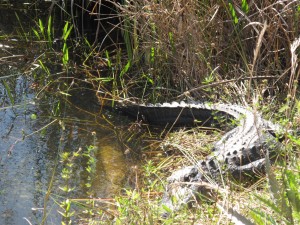 Alligator in the Everglades    and Fairchild Gardens
2014    Floral Fantasy

    Iris Waltz
Donna Clouston and I had a 2-person exhibition at the MUN Botanical Garden in St John's. We both worked in watercolour from materials we collected on spring trips to the garden centres.

    Crevice Garden
2014    Killarney Park, Georgian Bay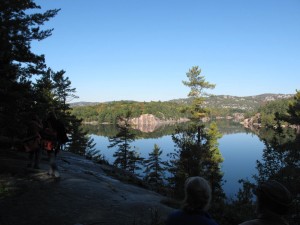 In September I flew to Toronto to join some friends from the Canadian Society of Painters in Watercolour. We drove to join members from the Ontario Society of Artists for an intense weekend of painting on the north coast of Georgian Bay.
2013 to 2014  I was inactive with life threatening health issues from a perforated appendix
2013  A Walk Through Time
I won a commission to paint a geological mural inspired by trilobite fossils found in the shales along the linear park along Manuel's River. This was a challenging project that involved extensive research into geological events through thousands of years, but focussing on the incredible fossil finds that are internationally reknowned. Wonderful assistance was provided by the geologists and naturalists who supplied  related information, but the ultimate design was developed through my own research. The mural is 6 feet high and 40 feet long. It is in 5 panels that drop down  to reflect the sloping river path.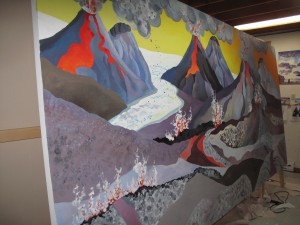 panel 1: Pre-Cambrian volcanoes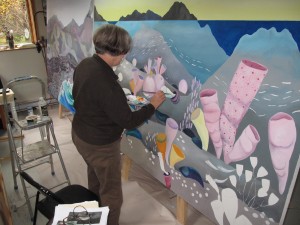 panel 3: painting the trilobites
2012: Fractured Forms
During an Artist Residency in Cost Rica in 2010, I was reminded of my youth in Zimbabwe.  The familiarity of the strength of the equatorial light and the interplay of light and shadow on the surrounding exotic plant life developed into a new body of work that allowed me to revisit floral subject matter from a fresh point of view.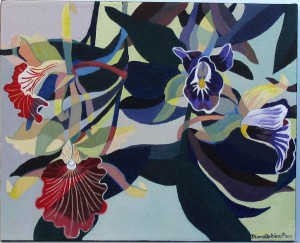 My experience in Costa Rica forms a link with the work I have been making in Newfoundland.  The focus in my landscape painting has been directed on the fracturing and dislocation of the rocky shoreline, and the patterning and natural decoration of rock formations that have been interrupted visually by overlaying shapes of boreal tree trunks and alders.
                                                                                                                                                                       Orchid Shadow 3  2011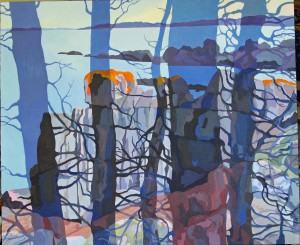 Shoreline Shadow 1      acrylic on linen     2011
Fractured Forms was an exhibition of paintings in acrylic on canvas and in watercolour on paper at Christina Parker Gallery in St John's.  The works use an overlaying shadow to disrupt the flower forms but traces the primal beauty in these central themes.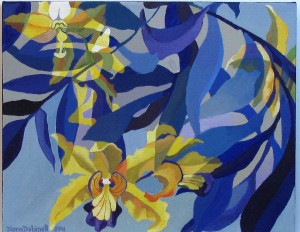 Orchid Shadow 1   2011 acrylic on linen
2011  International Women Celebrate! March 8 to April 10, 2011
In response to an international call by AyrSpace in Ayr, Ontario for original works to celebrate International Women's Day, I painted saltfish on a flake as a symbol for the traditional hard work by women in Newfoundland. This traditional and monotonous work was added to all the other demands of family, farming and home. It appealed to me as a unique activity in historic times in this province. Information about the exhibition can be found at ayrspace.ca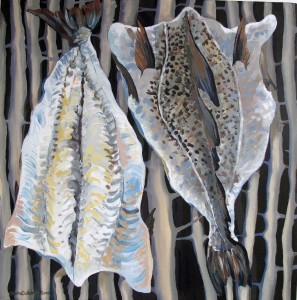 Salt Fish 2011
2010  Commission for Deer Lake International Airport
After returning from Costa Rica I worked on a commission for Deer Lake International Airport in central Newfoundland. The 2 linen paintings are each 5.5 by 13.5 feet and are installed over the exit doors in the Arrivals area. They were painted on giant easels in my studio with the top edge painted from a ladder that I moved along as I painted. The first one shows the many species of wild orchids I found when working as an artist-in-residence in Gros Morne National Park in 2001. They are set against a backdrop of Gros Morne Mountain and the Lonely Mountain Range on the west coast.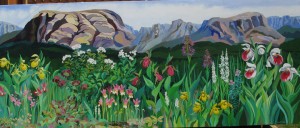 Land   2010
The second panel shows the variety of sea life in the waters offshore.
Commission for the Fluvarium, Pippy Park, St John's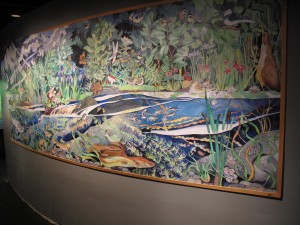 Stream Ecology
The original watercolour for this piece is 30 x 150 inches and shows the variety of life above and below the water. It was scanned and printed as a large panel on the approach to the underwater viewing windows looking at Rennie's River.
1999    Commission for the Community Hospital of the Monterey Peninsula: Cancer Centre
These works hang behind the front desk at the Cancer Centre.  I worked on this commission when dealing with breast cancer myself, so it was interesting to experience the Californian approach!   1995     Commission for the Community Hospital of the Monterey Peninsula: Birthing Centre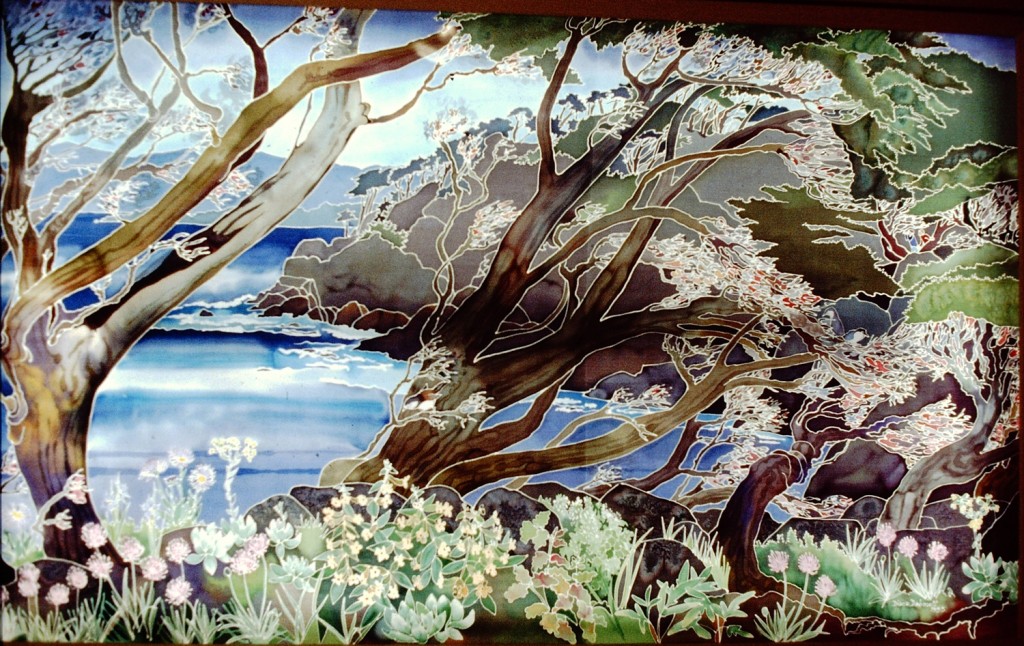 Point Lobos Park     dyes on silk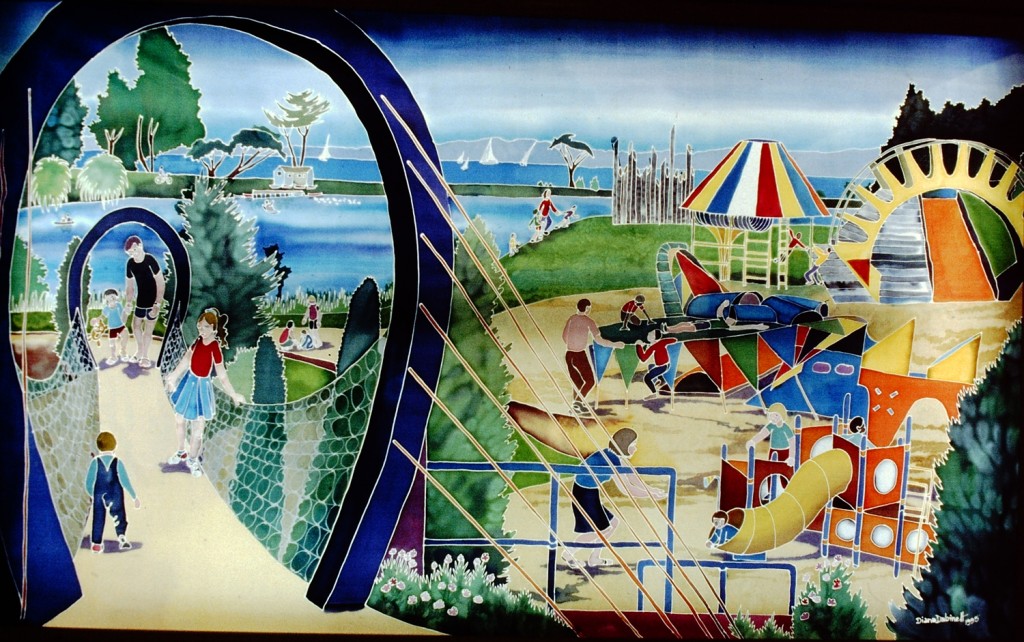 Denis The Menace Playground     dyes on silk
This was a wonderful commission of 10 works for the new Birthing Centre. These 2 silk paintings are backlit and hanging in separate birthing rooms but can be dimmed at need. They feature well known places in the area to make the patient feel at home.